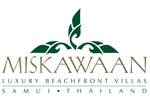 Miskawaan - Villa Bougainvillea
From
USD 850
to
USD 2,450
"Peace and tranquility in a private tropical haven"
Description
Villa Name:
Miskawaan - Villa Bougainvillea
Villa Bougainvillea at Miskawaan Estate
The homes at the Miskawaan Estate on the north coast of Koh Samui offer guests all that's desired from an island break. The villas at Miskawaan are showpiece properties built with quality and class in mind. And guests are assured of peace and quiet to make the most of the superior beach location.
From the minute you walk through the double wooden doors it's like entering, Villa Bougainvillea, a private tropical haven. Turning into the stoned courtyard you are faced with a colorful garden complete with ornamental pond. (The pavilion to the rear of the property houses the magnificent Master Bedroom with its spacious en-suite).
As you walk along the entrance courtyard there's a small seating area on the covered stone terrace that's perfect for reading or relaxing out of the sun. Turning right the terrace continues to a central garden area and the tropical atmosphere is enhanced.
Looking from the rear of the villa you can see the terrace split and run either side of garden, leading to two further pavilions. On the right side is the sleeping pavilion, housing one double bedroom and two twin bedrooms. Each of these luxuriously appointed rooms has an en-suite bathroom complete with an indoor and an outdoor shower room. This pavilion is L-shaped with one side running parallel to the garden and the other turning off to the right. This layout adds to the feeling of complete privacy.
To the left of the garden is the pavilion consisting of an outdoor bathroom, kitchen, dining area and lounge. The kitchen comes fully fitted with all required appliances and has a central island feature, this leads through to the dining area which is focused around a teak dining table.
A wood paneled wall and beamed, vaulted ceiling creates a natural and spacious room which also has a further bathroom. The lounge area has teak-framed furniture with upholstered cushions facing the plasma TV with satellite and CD/DVD player. Glass doors take you from this room onto a covered entertainment area with seating. And from here you can walk across to the sala with a Thai-style roof and ceiling fans. Inside the sala is a large massage bed and outdoor dining furniture. A portable gas BBQ is also provided. Speakers are built into the sala to allow your choice of music to be played outside.
In front of this is the lawned garden bordered with plants and a private gate leading onto the beach.
Running from the garden right into this villa is the dark blue-tiled saltwater swimming pool. This long narrow pool creates a focal point which although completely outdoors, penetrates right into the heart of the living areas. At the end of the pool a decked area joins with the central garden which is planted with mature bamboo trees and has an antique looking statue that matches perfectly with the tropical atmosphere of this property.
What's most eye-catching is that everywhere you look you see tropical foliage; every window and doorway has colorful plants framing the view. And the overall effect is completed by ornate wall carvings, intricate stone work and the clever positioning of pots and ornaments.
This design of this villa creates total seclusion in a natural and truly peaceful setting.
** Images and descriptions depicted may include prices, features, furnishings, facilities, services and amenities that are subject to change at any time.
Location
On the northern coast of Koh Samui, 15 minutes drive from the airport, 5 minutes from the resort of Maenam and 15 minutes to the island's busiest resort, Chaweng.
Villa Rates
*Notice, until you have a confirmed IPSL reservation by email from, then rates and information may differ from those listed on our websites and are subject to change without prior notice.
Daily rates from US$ 850 to US$ 2,450 depending on season.
The master suite in this villa is not accessible at anytime by guests
Daily rates for an optional full time Thai Chef is US$45 ++ subject to 10% service charge and applicable of 7% tax per day (food cost on Guests account)
Minimum stay of 3 nights (7 nights over Christmas or New Year and 10 nights over both holidays, 5 nights for Chinese New Year, Easter and Songkran)
Rates shown are for a maximum of 8 (eight) Guests (including children) depending on villa. Extra bed will be charged at US$50 per night
Daily rates and extra beds are subject to 10% service charge and 7% tax
Airport transfer: US$ 35 (plus tax) per trip for a maximum of 9 passengers in private mini bus or luxury car
Baby cot provided free of charge
Rates include daily breakfast
For weddings and private parties, a surcharge may be applicable depending on number of guest. Also the villa booking conditions may change such as the required minimum nights stay. Separate Terms and Conditions may apply for any wedding or private parties held in a villa and will be confirmed at the time of your booking.

Facilities
Private salt chlorinated swimming pool
Sala with Thai style roof and ceiling fans
Music system with outdoor speakers in the sala
Portable gas BBQ
Fully-furnished inc. linens/towels
Large living and dining areas with sea views
All bedrooms and living area are air conditioned and have ceiling fans
Broadband WIFI ADSL
Plasma TV with satellite CD/DVD in lounge
Large fully equipped kitchen
Back up generator in time of power outage
CCTV and extensive security system
24 hrs manned surveillance at entrance and on the beach (night time only)
Estate Facilities
Direct Beach Access
Broadband WIFI ADSL
Back up generator in time of power outage
CCTV and extensive security system
24 hrs manned surveillance at entrance and on the beach (night time only)
Services
The resident villa staff will ensure the villa is kept clean and tidy while the Villa Manager is available to cater to all Guests specific needs and help organize activities, massage and spa treatment as well as communication with the Thai chef and dealing with any matter arising at the villa
Our Guest Relations & Concierge team will visit guests during their stay (usually the day after check in) to further help ensuring guests have a pleasant stay or address any matters arising at the villa
Bed linen is changed every third day, while towels are changed as necessary
Pool towels are provided and replenished as deemed necessary
Shopping list available
In-Villa wine selection
Concierge service for all tours and activities; private tours can also be arranged
Car rental can be arranged with full insurance coverage, with or without driver
In-villa spa treatment with extended menu
Baby sitting service on request and availability
Availability